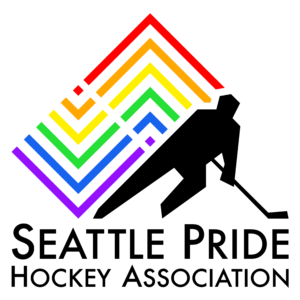 The Seattle Pride Hockey Association (SPHA), with our Partner, the Greater Seattle Hockey League, is excited to announce our first official event – the Seattle Pride Classic 2021!
Just like you, we had BIG plans for 2020… but you know the drill. In an effort to celebrate Pride this year (while keeping in mind safety/COVID-19 protocols), SPHA will be hosting a smaller event called the Seattle Pride Classic. While we wish we could host a large full-scale tournament, complete with socials, mixers, etc., we recognize the world isn't quite ready for that yet! But, we recognize the importance of getting players on the ice.
To prepare for this event, we need to gauge interest first to understand what will be fun and safe. This event / games are open to everyone, including LGBTQ hockey players and allies.
Here is some information to consider:
Date: June 19 and 20.
Time(s): Games will be from approximately 4:00pm to 9:00pm.
Location: Olympicview Arena.
Cost: ~$150.00 per player.
Games: 4 per team.
One complimentary SPHA commencement jersey to each player. (Numbers issued randomly; any name customizations can be done by the player).
We're partnering with Pride Tape to issue LGBTQ+ patches and Pride Tape, among other memorabilia.
Full-regulation games, staffed with two referees and a scorekeeper.
A current USA Hockey 2020-2021 or 2021-2022 membership is required to participate.
The association will elect one captain per team and the week leading up to the event, the captains and association would perform a draft for each team from the pool of registered players.
All proceeds go to benefit the Seattle Pride Hockey Association's mission of "…promoting and advocating for diversity & inclusiveness in the Pacific Northwest ice hockey community."
For out of town TEAMS, or for players that have any questions, you may email us at Classic2021@SeattlePrideHockey.org or call or text us at (206) 627-0005.
Thanks, and we look forward to meeting you at the Seattle Pride Classic 2021!
Your hosts,
Joey & Steven
The Seattle Pride Classic 2021 will be hosted by our partner, the Greater Seattle Hockey League.